About us
The Backridge Butcher is based not far from Puketapu, in the sunny Hawke's Bay on New Zealand's East Coast. Only being a stone's throw from the sika country of the Kaweka Forest Park and Inland Patea.
"I am a master butcher specialising in quality wild-game small goods with over 30 years of experience." – Glenn Morris.
Glenn learnt his trade as an apprentice in an Old World butchers shop established in 1920s Havelock North. Taught trade secrets from an old Yorkshireman master smallgoods maker, handed down from generations of butchers.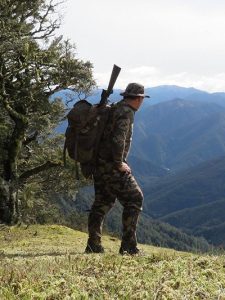 We are a family of passionate sika hunters, regularly hunting the local high country, harvesting game & trophies all year round. We share our knowledge and experience with others through our guiding service and promote hunting & conservation through our 'Time To Hunt' Youtube channel, Facebook page and Instagram. Glenn has also written articles for NZ Hunter magazine for over 10 years.